Sie sind hier:
F-Secure Security for Virtual and Cloud Environments
Mit der F-Secure Security for Virtual and Cloud Environments (SVCE) werden in Kombination mit den anderen zentral verwalteten Schutzprodukten auf virtuelle Maschinen Ressourcen gespart.
Über den in jeder Maschine zusätzlich zum Anti-Virus installierte Offload Scanning Agent (OSA) werden Objekte zur Virensuche an den Scanning and Reputation Server übergeben. Der Scanning and Reputation Server wird dazu als Soft Appliance in einer getrennten VM auf dem selben Host installiert. Das erspart in den VMs mit dem OSA die lokale Überprüfung und somit die lokalen Scanning Engines und das mehrfache Vorhalten von Virus-Signaturen.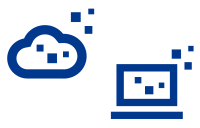 Der Scanning and Reputation Server basiert als Soft Appliance auf einem gehärteten Linux. Er nimmt den virtuellen Mashchunen das Malware-Scannen und Dateibewertungen mit Hilfe von Cloud-Anfragen ab.
Die Installation von F-Secure in jeder virtuellen Maschine ermöglicht zusätzlich zur zentralen Virensuchen eine umfasstende Verhaltensüberwachung.
SVCE wird zentral über den F-Secure Policy Manager verwaltet.
SVCE unterstützt die folgenden Plattformen:
VMware ESXi 5.0, 5.1
Citrix XenServer 6.2 oder neuer
Citrix VDI-in-a-Box 5.x
Microsoft Hyper-V 2008 R2, 2012, 2012 R2
Auch auf anderen Virtualisierungsplattformen kann SVCE betrieben werden.
Als Host-Betriebssysteme kommen alle von den folgenden Produkten unterstützten Windows-Versionen zum Einsatz:
Viele F-Secure-Produkte enthalten diverse Optimierungen und Einstellmöglichkeiten für den Betrieb auf virtuellen Systemen. Fragen Sie uns gerne bei Bedarf.
Technische Informationen zu beispielsweise der Virenerkennung sowie unsere Serviceleistungen finden Sie auf der übergeordneten Seite.
Besuchen Sie unser kostenloses Webinar zur F-Secure Business Suite. Durch den direkten Kontakt zu unseren Technikern finden Sie schnell heraus, ob das Produkt zu Ihren Anforderungen passt.
Sie können vor dem Erwerb einer Lizenz eine Test-Version per Download holen.
Wir beraten Sie gerne!
Rufen Sie uns an: 040 6962816-0


Rückruf Service
Wann sind Sie wirklich sicher?
Wir beraten Sie gerne!
Rufen Sie uns an: 040 6962816-0


Kryptotrojaner-Audit
Wir überprüfen den Zustand Ihres Kryptotrojaner-Schutzes. Sprechen Sie uns an.
Auszeichnung für F-Secure

"... erhält Client Security für eine durchgängig bestechende Sicherheits­leistung ..."
Maik Morgenstern, CTO AV-TEST
Über 30 Jahre IT-Erfahrung
Sicherheitsprodukte, Akademie und Gold-Support:
Das kann nur perComp.